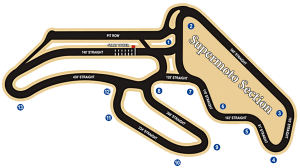 Event Pricing – $120 (includes transponder) / $20.00 Ride Along Pit Pass / $20.00 Helmet Rental
Non-Event Practice Day – $160
1 Year Membership – $300
SAFETY
All vehicles need to pass a technical safety inspection prior to each event.
Brake system will not bleed pressure.  Solid pedal feel required.

Brake pads will have 50% or greater material remaining

Properly secured battery.  No looseness whatsoever will be allowed.

No steering wheel slop.

No loose wheel bearings.

No loose items in the vehicle cabin.

Helmets must be M2010 or SA2010 and newer

No leaking fluids from vehicle.
There will be NO CONSIDERATION GIVEN AT DAY OF EVENT.  ALL VEHICLES MUST PASS TECH INSPECTION.
TRACK DAYS:
The 2nd weekend of each month, check the calendar for more info…
Track is available during normal "open" hours outside of our usual scheduled Track Days for practice.