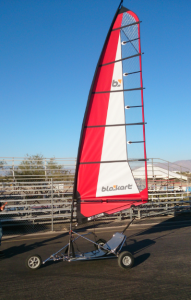 SAILING CERTIFICATION & RENTALS
Half day sailing school $249 
Certification:
Welcome to Arizona's first, professional sailing school program using high performance state of the art racing Blokarts also known as land yachts. You won't find this top of the line sailing excitement and instruction on a track anywhere else in the country.
Required for Blokart rental

Includes 1 on 1 instruction

3 sessions of open sailing on the skid-pad and east track

Sailing safety & dynamics

Safety gear included

Subject to wind!
Reservation is required for all certification classes!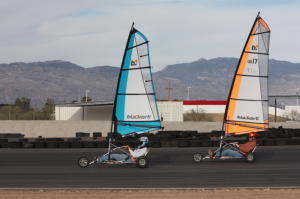 BLOKART RENTALS:
2 hr sessions on the skid pad and east track $100 per session/person
With it being windy here most days of the year, we were exited about the opportunity to feature a new vehicle ran from free, renewable energy that we had an abundance of (the wind). Come lay back and relax or sheet in to feel the true power of nature as the Circuit brings you our newest most remarkable vehicle yet… The blokart (or land yacht).
Must have sailing certification

2 hour free sailing (20 min sessions)

Different size sails for performance, experience & wind speed

One of the most exiting & unique vehicles here at the track

Subject to wind!